ABOUT SAMCHEM GROUP
Samchem has been in operation for more than 20 years and is a leading industrial chemical distributor in Malaysia and South East Asia.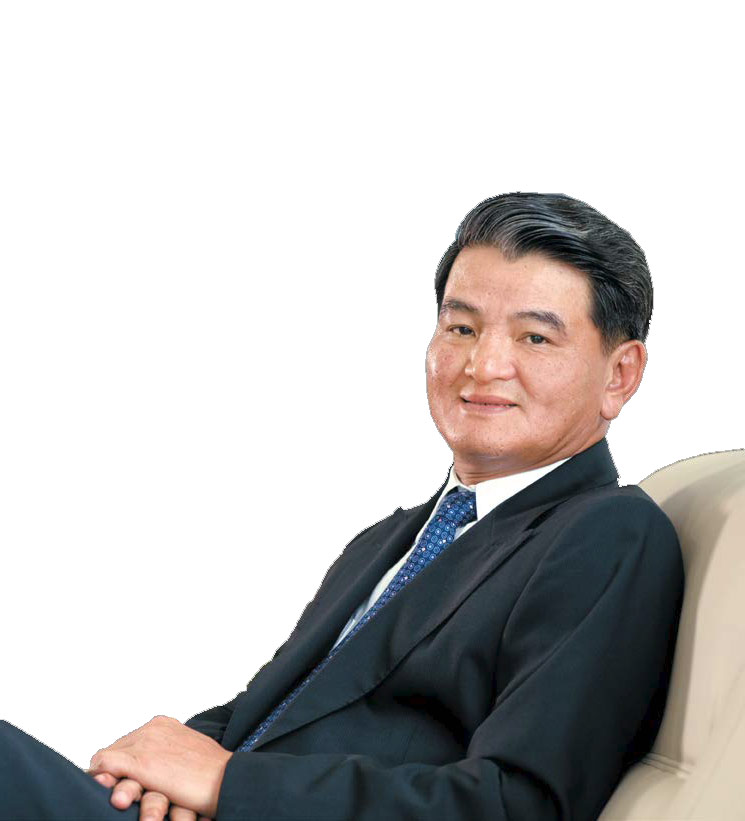 Ng Thin Poh (Group Executive Chairman)
Samchem is established in the year of 1989 and the core business for the Group is in Distribution of Chemicals. The Group's business has expanded with the acquisitions of new companies to the Group, as well as a growing portfolio of products from existing principals.
Besides distribution, the Group has a division that does blending of solvents to make customised products for specific applications. This division focus on chemical distribution with value-added services (warehousing (DG cargo), bulk-breaking (into drums or smaller packaging) & blending for local industries and is complemented by the set-up in Singapore (Westgate Tower, Jurong East) that export to other global destinations.
Samchem represents the largest petrochemical companies in the business today – ExxonMobil Chemical, Shell, Petronas, BASF; these are the largest global producers of petrochemicals in this region. Collaboration with these petrochemical giants began in Samchem's early days and over >20 years of working together, Samchem has expanded out to other ASEAN countries, acquired a wider range of products for distribution, including specialty premium chemicals and established a vast network of customer base for mutual business growth and benefit.
Other than these major petrochemicals producers, Samchem also market and distribute for a large number of specialty chemical manufacturers, all global names in their respective industries (e.g., Momentive, Idemitsu, Afton, Arkema, Celanese, etc.). Products from all these suppliers are used in a wide range of industries such as paints & coatings, polyurethane foam (for mattresses, car seats), automotive, printing ink, construction, agriculture, adhesives, industrial cleaning, household and personal care, electronics, oil & gas and many more.
Technical & Development (T&D) Division for Market Development
By 2014, Samchem has grown to become a regional distributor of global brands in the chemical industry. Dynamics of the industry have changed and Samchem has additional focus on market development to grow premium specialty chemicals other than the distribution of industrial chemicals.
Samchem set up a T&D division that learned from the technical resources of MNC producers to provide technical support to end-use customers. The T&D division enables Samchem to extend the MNC suppliers' technical resources to a wider reach of customers, especially to the SMEs in emerging ASEAN economies that require it most to expand business.
Being the first in the region to establish a T&D division sets Samchem apart from the others, not just in providing technical support but equally important, in tapping into our customers' technical resource/R&D for mutual benefit and to further enhance business relationship.
Capitalising on Samchem's Infrastructure: Distribution of Visual & IT Products
With expertise honed from more than 25 years' experience of warehousing, logistics and chemical distribution activities, Samchem embarked on to the distribution of Visual and IT products in 2015. The company, Sampro Distribution Sdn Bhd, represents leading brands in projectors and audio-visual devices, as well as accessories. This company has more than a hundred dealers throughout the country and has already tapped into the Group's infrastructure by setting up depots, sharing premises where Samchem has presence (Penang, Ipoh, Johor Bharu, Kuantan with more in the pipeline).
SAMCHEM SDN. BHD.
Samchem Sdn. Bhd. (SCSB) was incorporated as a private limited company in Malaysia on 13 January 1989. SCSB is principally involved in the distribution of PU chemicals, intermediate chemicals and specialty chemicals.
SAMCHEM LOGISTICS SERVICES SDN. BHD.
Samchem Logistics Services Sdn. Bhd. was established in Malaysia on 27 October 2000 and commenced operation in April 2007. Samchem Logistics Services is involved in the provision of logistic services.
SAMCHEM INDUSTRIES SDN. BHD.
Samchem Industries was incorporated on 27 October 2000 and is principally involved in the distribution of specialty chemicals.
SAMCHEM LUBRICANTS SDN. BHD.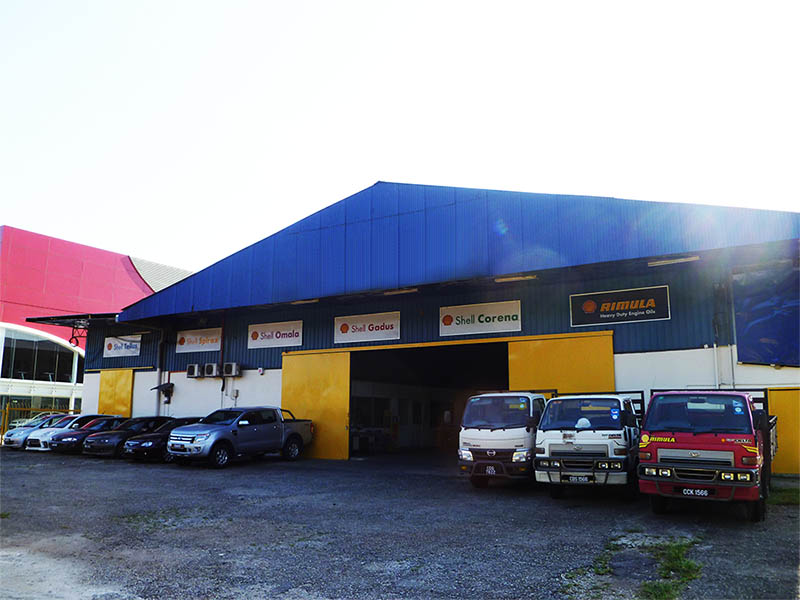 Samchem Lubricants Sdn. Bhd. is an authorised Shell lubricants distributor since September 2016. Samchem Lubricants markets a full range of Shell lubricants as well as greases for the transport, construction, mining, quarry, manufacturing, engineering, marine, oil & gas sectors, etc. Samchem Lubricants area of coverage includes the East Coast states of Pahang, Kelantan and Terengganu as well as the Northern states of Perlis, Kedah, Penang and Perak.

www.samchemlubricants.com
SAMCHEMSPHERE EXPORT SDN. BHD.
Incorporated on 10 November 2006, Samchemsphere Export is involved in the export of intermediate and specialty chemicals.
SAMPRO DISTRIBUTION SDN. BHD.
Sampro Distribution Sdn. Bhd. is a company with business in the distribution of Visual and IT products for projectors, screens, LED monitors, video walls, controllers and all other related equipment and peripherals, as well as in the service and maintenance of products in this sector.

www.samprosb.com
SAMSERV SERVICES SDN. BHD.
Samserv Services is primarily involved in the retail sale of audio video and ICT system distribution and trading.
MY ONLINE AV SDN. BHD.
SAMSENTOSA CHEMICALS SDN. BHD.
SAMCHEM NUSAJAYA SDN. BHD. (Formerly TN Chemie Sdn. Bhd.)
Samchem Nusajaya Sdn. Bhd. (Formerly TN Chemie Sdn. Bhd.) was incorporated as a private limited company in Malaysia on 19 March 2001. The company is involved in the distribution of intermediate and specialty chemicals, and blending of customised solvents.
PT SAMCHEM PRASANDHA
SAMCHEM SINGAPORE PTE. LTD.
SAM CHEM SPHERE JOINT STOCK COMPANY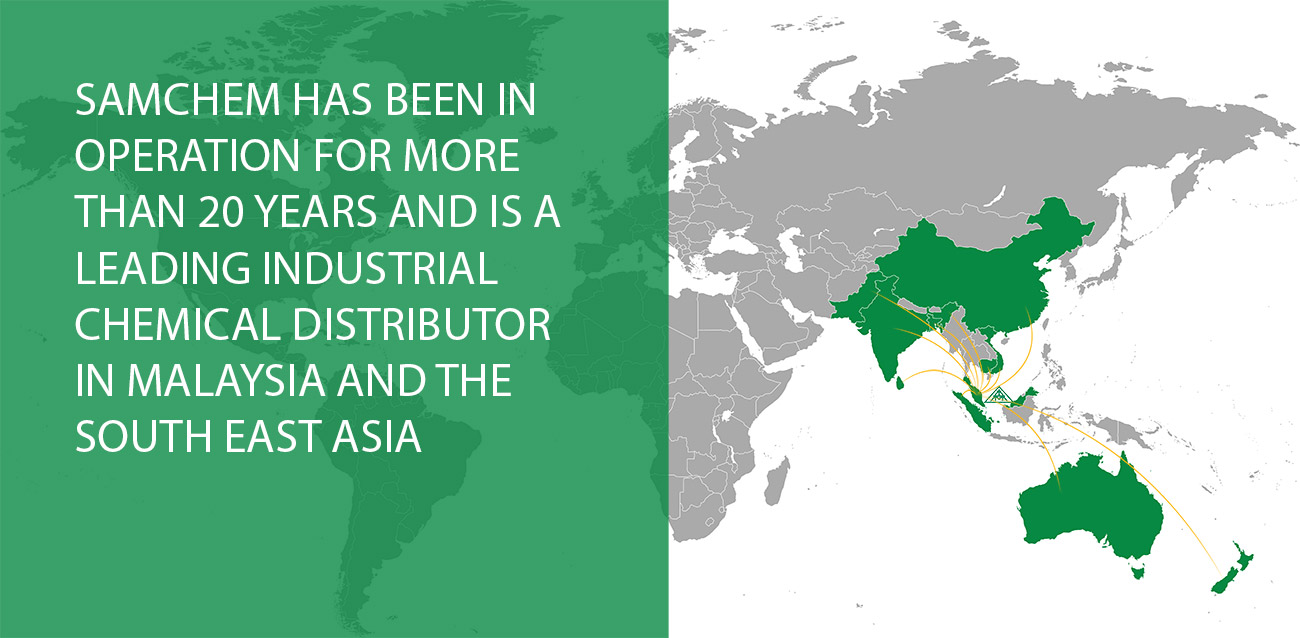 ORGANIZATIONAL CHART